Cooker Hood Filter Cleaning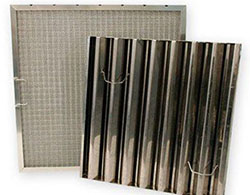 If you would rather not replace your Cooker Hood Filter and would like to have it cleaned we can do that. We service companies throughout the UK, particularly in the Greater Manchester, Oldham, Bury and Rochdale areas.
Benefits of Having your Cooker Hood Filter Cleaned
A common cause of commercial kitchen fires is when filters become filled with grease, which can then spontaneously combust.
Cleaning your Filter reduces your risk of fire and may ensure you comply with Insurance and Fire Regulations.
Fully Accredited Cooker Hood Filter Cleaning
All of our work standards confirm to the Food Safety Acts and are in accordance with the Health & Safety at Work Act 1974. We are also COSHH and risk assessments compliant.
Who We Work For
We service restaurants, schools, hotels, golf clubs, pubs, care homes, and commercial properties throughout Greater Manchester and all over the UK, providing a 24/7 service to fit into your schedule.
Why Choose Us?
24/7 Service
We offer a 24 hour service, meaning that we can fit around your timing requirements, ensuring minimal disruption to you.
To find out more about our Cooker Hood Filter Cleaning, or to request a quote, please use our contact details on this page. Or alternatively you may complete the enquiry form.